Home|Glossary|Links|Journal|Maps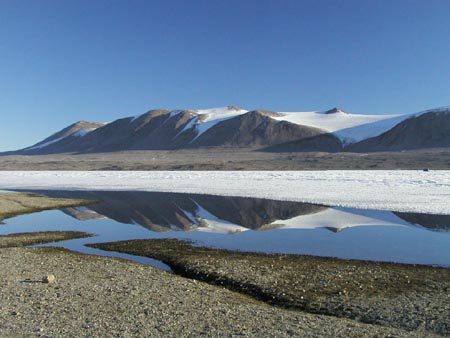 Around 30 people from across the U.S., including John Gartner and myself, will be spending part or all of the austral summer in the Dry Valleys. We're participating in a long-term ecological research project or (LTER) that is part of the U.S. Antarctic Program (USAP) and is sponsored by the National Science Foundation (NSF). The goal of the project is to study the Dry Valleys' polar desert ecosystem over long time and broad spatial scales. This involves scientists from a variety of disciplines going to the valleys year after year. Some are "old-timers" who return each season, and some, like John and I, are rookies heading down for our first time.
People studying the lakes and glaciers are already in the field while people studying the soils will head south at the end of December. John and I, however, are on the "Stream Team." We're responsible for repairing, maintaining, and collecting data from around 20 gauges that measure stream flow in the Dry Valleys. It's also our job to collect water quality samples from around 30 streams. Once we get all that going, we'll be doing some research into how soils around the streams freeze and thaw as well.

The National Science Foundation has set up 24 LTER projects across the United States, In Puerto Rico, and in Antarctica.

Check out the official
LTER web site.


Our team is headed by Dr. Diane McKnight, a professor in the Institute of Arctic and Alpine Research (INSTAAR) at the University of Colorado (CU) in Boulder, where I am a graduate student studying hydrology in the Department of Civil and Environmental Engineering. Diane is my advisor.

John has been working hard and has just successfully defended his master's thesis in hydrology for CU's Department of Geography (Congratulations John!)
Stream Team member Peter Spatz is a stream gauging expert who works for the United States Geological Survey, the agency responsible for obtaining flow data from streams across the U.S. and in the Dry Valleys. He'll be joining John and me in December.
CU graduate students Jenny Baesman and Erin Van Matre, and junior high school science teacher, Louise Huffman, will also be joining us in December. They'll be studying one of the few organisms able to tough out the Dry Valleys' harsh environment - algae.
John and I are the first ones from our group to go down though. To get ready we've been meeting with two-year Stream Team veteran, Chris Jaros. In addition to reassuring us (me in particular) that we will not want for chocolate in Antarctica, Chris has been trying to stuff our brains with as much Stream Team knowledge as he possibly can. John still has two more weeks to go into information overload, but my preparation time is over. I'm heading down now.

Next>>